Posted by Ali Dowl - NABS Interpreter on 6 August 2014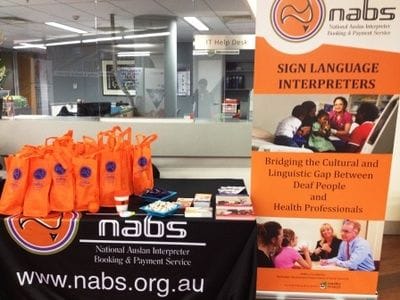 NABS stand at the Tasmanian Health Conference
On Saturday 26th July, NABS was represented at the 'Tasmanian Health Conference' held at the Menzies Centre in Hobart.
Over 150 people attended to discuss the state of health services and workforce issues.
NABS Tasmania Interpreter Ali Dowl met many people and provided information about NABS interpreters.
This was a very successful event.
New contacts were made with many doctors, health workers and education providers.
NABS thanks the Australian Medical Association (AMA) for the opportunity to participate in this great conference.