Posted by Communications@NABS on 11 February 2014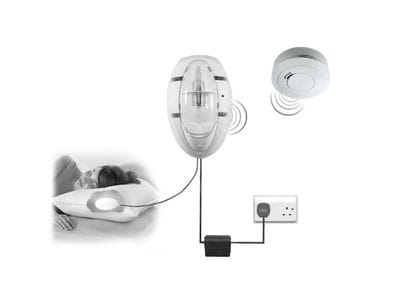 Deaf-friendly smoke alarm kit with strobe light and vibration pad
Eligible members of the Deaf and hearing impaired community now have access to low cost deaf-friendly smoke alarm systems under a new subsidy scheme.
Funded by the Queensland Government through the Queensland Fire and Rescue Service, the scheme is being administered by Deaf Services Queensland.
Under the scheme, eligible deaf and hearing impaired people will pay just $50 for the system, which includes a flashing strobe light and vibration pad.
The rest of the cost is covered by the funding that Deaf Services Queensland receives from the Queensland Fire and Rescue Service.
Deaf or hearing impaired people who have a current Pensioner Concession Card and are a resident of Queensland are eligible to apply for the scheme.
People wishing to access the subsidy can find out more information on the Deaf Services Queensland website.
For more information, contact Deaf Services Queensland at:
Phone: (07) 3892 8500
Fax: (07) 3392 8511
TTY: (07) 3892 8501
Email: smokealarms@deafsq.org.au