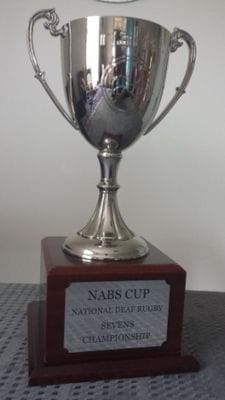 NABS proudly sponsored the 'NABS Cup' for the winning team at the Australia Deaf Rugby Union Sevens National Championship
- By Simon Mahony, ADRU7 President
Australia Deaf Rugby Union Sevens' 1st National Deaf Rugby Sevens Championship 2014 was held on Saturday 1st March 2014 in Granville Park (Parramatta Rugby Union Club), Sydney NSW.
This event of Deaf rugby sevens tournament was another successful event since the Deaf rugby sevens tournament at the Australian Deaf Games in Geelong 2012.
There were three state Deaf rugby sevens teams, total of 28 participants, who played in the rugby seven tournament.
We began with ARU's Smart Rugby course, two hours of rules and safety instructions in the morning before the Deaf rugby sevens tournament started.
There were 35 Deaf participants who attended the Smart Rugby session. The Smart Rugby course is evidence for the ARU, Deaf and rugby communities that this course was worthwhile, because the Deaf rugby sevens rugby tournament was a magnificent and smooth game even after the rules and safety instructions were taught.
The Deaf rugby sevens players included new faces of Deaf players who love how the rugby games went, even in the extreme wet weather and we all were soaked.
The Deaf rugby players, officials and spectators thought the experiences were worthwhile because they are developing not only the rugby culture but also the Deaf identity, community and culture. It was pleasing to see many new faces helping the growth in the number of participants.
Good news - ADRU7's board members have decided to bring forward our 2nd National Deaf Rugby Sevens Championship from March 2015 to Saturday 4th October 2014 in Brisbane QLD. We are confident that it is a more appropriate date to bring our Deaf and rugby communities together to reinforce our important role at the grassroots level in Deaf rugby.
Winning team - VIC Deaf Rebels
Runner-Up team – NSW Deaftahs
Third placing – QLD Redeafs