Posted by Communications@NABS on 16 January 2014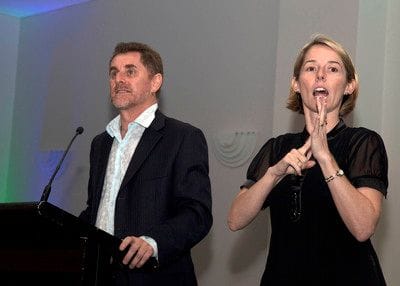 NABS Interpreter Naomi Kishtoo helped interpret at the 2013 Northern Territory Disability Services Awards held in Darwin late last year.
The Awards were attended by more than 120 guests, and recognised the businesses and individuals making a difference in the lives of people with a disability.
Richard 'Margo' Margetson from ABC Radio (pictured left with Naomi Kishtoo) presented as Master of Ceremonies.
Rachel Kroes won the Disability Sector Employees Award (Non-Government) and well as the 2013 Employee of the Year Award.
The awards recognised her innovative approach to supporting people with Down Syndrome and intellectual disability.
Other 2013 winners included:
Michelle Kragt, Disability Sector Employees Award (Government)
Diane Krepp, Remote Disability Sector Employees Award (Government and Non-Government)
David Sheasby, Operational Support Disability Sector Employees Award (Government and Non-Government)
Bromeliad Bed and Breakfast, Mainstream Business Award (Non-Government)
Office of the Commissioner for Public Employment, Mainstream Business Award (Government)